2018 - 2019 Field Lacrosse Registration is now open!
---
---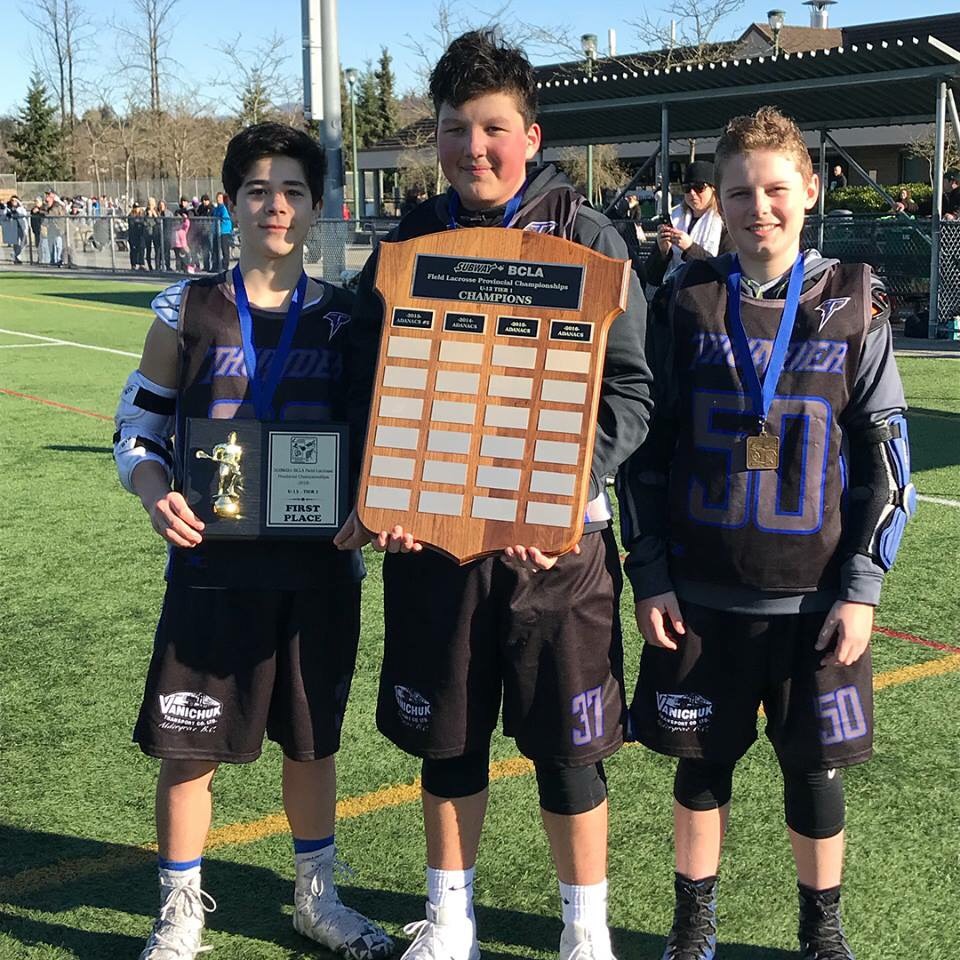 ---
Richmond Field Lacrosse 2018-2019
Lacrosse is Canada's national summer sport and is considered to be the fastest game on two feet. Field lacrosse is one of the quickest growing sports in the NCAA leagues and gives many Canadian athletes an opportunity to pursue post-secondary education in both Canada and the United States. Richmond Field Lacrosse is a part of the BC Lacrosse program under the Pacific Coast Field Lacrosse League (PCFLL).
There are six Youth Men's age divisions - U7, U9, U11, U13, U15 and U18 and four Women's age divisions - U8, U12, U15 and U19. Girls are welcome to register and play in the Men's divisions or play the female game of field lacrosse which is non-contact and quite different from the boys game.
Women's field lacrosse is a non-contact sport and is a game based on stick skills, speed and strategic play. In the U8 and U12 divisions, girls play 7-vs-7 on a half field where developmental focus is on stick skills, passing and positioning. In the U15 and U19 divisions, girls continue their development on a full field playing 11-vs-11.
The Field Lacrosse season runs September to February with games primarily on Sundays, some games on Saturdays. The U7 and U9 divisions participate in a Jamboree held during the season. The U11 division holds a Championship Tournament and U13/U15/U18 and Female U12/U15/U19 divisions compete for a berth in the Provincial Championships held in early to mid-February.
For the 2018-2019 season, Richmond Field Lacrosse will be offering the following programs:
Women's U12 (2006-2007), U15 (2003-2005) and U19 (1999-2002)
Men's U7 (2011-2012), U9 (2009-2010) and U11 (2007-2008)
Men's U13 (2005-2006), U15 (2003-2004) and U18 (2000-2002)*
*Richmond Field Lacrosse and Vancouver Field Lacrosse have been approved for the 2018-2019 and 2019-2020 seasons to pilot a merge of players in the U13, U15 and U18 Boys programs. This will allow both associations to develop players and provide an opportunity for them to play at the appropriate skill level of Tier 1 and Tier 2, develop coaches and volunteers and host two teams per divisions instead of releasing players throughout the lower mainland. Practices and games will be held in both Richmond and Vancouver.
PRESEAON:
U7/U9/U11: Preseason sessions will be Tuesday and Thursday evenings from August 21 - 30 at Minoru 2, 6:00-7:00pm. Season practices will start Tuesday, September 4.
Men's U13/U15/U18 and Women's U12/U15/U19: Preseason sessions will be held Tuesday and Thursday evenings from August 21 - 30 at Minoru 2, 7:00-10:00pm. Assessments and tryouts for the Tier 1 teams for U13, U15 and U18 will be held during these sessions. More information will be circulated early August to all registered players. Teams will be formed and training will begin during the week of September 4.
SEASON:
Practices will be primarily Tuesday and Thursday nights with some Fridays (subject to field availability) and games are typically Sundays with some Saturdays.
Field Lacrosse Dates to Remember:
July
Registration begins. Please refer to the following link for registration information and costs.
August 12
Early Bird registration expires and fees are increased. If your player wishes to play Tier 1 in U13, U15 or U18, please ensure to be registered by this date.
August 21-30
Preseason and Tier 1 assessments for U13, U15 and U18. Preseason starts for all divisions will be held during these dates. Players must be registered to participate, NO EXCEPTIONS. More information will be sent in late August to all registered players.
Week of September 4th
Players will be allocated to teams within their appropriate divisions.
September - February
Regular season of approximately 20 games plus practices for Men's U9, U11, U13, U15 & U18 and Women's U8, U12, U15 & U19.
Regular season for U7.
February - March
Provincial competitions for U11, U13, U15 & U18 and Girls Field Lacrosse.
Field Lacrosse Equipment Required:
Girls may elect to play with the boys in the Men's U7-U18 divisions of field lacrosse or may play Women's field lacrosse which is non-contact. The required equipment is different for both games and is available from a variety of sporting goods stores. For players who participate in box lacrosse or hockey, some equipment can be used for both sports.
Men's/Mixed Gender U7 to u18
A hockey or field lacrosse helmet with wire face mask (must meet prescribed safety standards), lacrosse gloves, slash guards, elbow pads, athletic support with cup for boys/Jill support for girls, mouth guard, shoulder pads, kidney pads and cleats/soccer boots.
Women's U8 to U19
Women's field stick, goggles, mouth guard and cleats/turf shoes. A Women's field lacrosse stick is a different stick from box lacrosse sticks.
Sticks
A plastic head is mandatory for field lacrosse.
Goalies
All goalie equipment will be provided by Richmond Lacrosse to ensure maximum protection except for the following: helmet, gloves and jock/jill.
For all field lacrosse inquiries, please contact the RLA Registrar, Tanya Donaldson at registrar@richmondlacrosse.com or the VP Field, Dee Bowley-Cowan at vpfield@richmondlacrosse.com
Thank you, enjoy the season and Good Luck!
Dee Bowley